Gian Recital
Overall rating:
Your rating:
Login to rate
Times played: 32431
Description
Gian Recital: Gian wants to bring the house down with his ear bursting music in this doraemon game. Your job is to hit all the notes with your mouse to help him get better at singing.

Date added: 2013-07-09
Instructions
Use mouse.
Tags
None
Add a comment:
Log-in to add a comment
Doraemon Guidelines
Doraemon Guidelines: Entertaining game where our friend Doraemon projectile ago. Doraemon is to throw as far a…
Doraemon and the King Kon…
Doraemon and the King Kong: Nobita has traveled back in time and gorillas have kidnapped and now as his friend…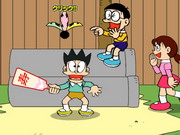 Doraemon Fashion
Doraemon Fashion: Dobby is very fond of the Japanese style the Doraemon fashion. She requests you to help her …
Dress Doraemon
Dress Doraemon: Doeramon has a very important appointment, has been with his girlfriend and you have to dress …
Launch Doraemon
Launch Doraemon: Using your cannon, lunch Doraemon for as far as possible to gain more points.