Doraemon Tokyo Racing
Overall rating:
Your rating:
Login to rate
Times played: 6690
Description
Doraemon Tokyo Racing is a free game for girl to play online at doraemongames.me. You can play Doraemon Tokyo Racing in your browser for free.

Date added: 2014-12-07
Instructions
Do you love Doraemon? This's funny game of Doraemon series, you join the aventure with Doraemon in Tokyo by racing car, help Doraemon avoid obstacles in the city road.

Tags
Add a comment:
Log-in to add a comment
Doraemon Flying Colors
Doraemon Flying Colors: Painted Doraemon as best you see this time he`s drunk and does not see colors well, do…
Doraemon Tetris
Doraemon Tetris: Spend a fun time playing this fun game based Doraemon Tetris. You have to fit the parts toget…
Doraemon Run Nobita Run
Doraemon Run Nobita Run: Help Doraemon avoid various obstacles and get away safely by hitting the right keys a…
Doraemon Colors
Doraemon Colors: It`s a fun coloring game Doraemon with his friends. Doraemon can color with dozens of colors …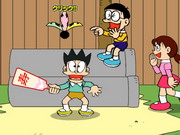 Mice Invasion
Mice Invasion: Mice capture the house of the parents Nobita, Doraemon and their friends to help to prevent.