Doraemon Tetris
Overall rating:
Your rating:
Login to rate
Times played: 74395
Description
Doraemon Tetris: Spend a fun time playing this fun game based Doraemon Tetris. You have to fit the parts together to complete a horizontal line to remove it. You have to remove all the lines to the next level.

Date added: 2013-07-09
Instructions
Use arrow keys to play.
Tags
Add a comment:
Log-in to add a comment
Doraemon Hidden Objects
Doraemon Hidden Objects: Find out the objects displayed below, which are hidden in the image. Find them in the…
Doraemon Puzzle
Doraemon Puzzle: You have to create a puzzle of 12 pieces of Doraemon, Nobita and friends..
Doraemon Nobita and Color…
Doraemon Nobita and Coloring: Painted Doraemon as it is in reality or as you want, but that if it put him pret…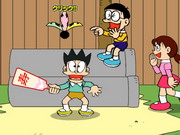 Doraemon Memory Matching
Doraemon Memory Matching: Match the pictures of The doraemon in pair. Try to finish the game in as little clic…