Doraemon Tank Attack
Overall rating:
Your rating:
Login to rate
Times played: 32927
Description
Doraemon Tank Attack: Our friend Doraemon has to defend his castle with a tank. Your mission is to kill all the enemies and try not to let any enemies in the castle.

Date added: 2013-07-09
Instructions
Use arrow keys to move. Use space bar to shoot and place mines and special powers.rnSave your castle by destroying all enemies tanks.
Tags
None
Add a comment:
Log-in to add a comment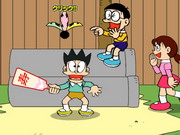 Nobita Fighting
Nobita Fighting: Nobita defends the attacks premium Gigante, Suneo and be a little weird.
Doraemon Buscar Pareja
Play this fun puzzle game based on the TV series Doraemon. You have to find a partner to remove blocks before …
Doraemon Coloring Papa No…
Doraemon Coloring Papa Noel: Paint a picture version of Doraemon, this time is more cheerful with Santa Clause…
Doraemon Puzzle
Doraemon Puzzle: You have to create a puzzle of 12 pieces of Doraemon, Nobita and friends..