Doraemon Mischief
Overall rating:
Your rating:
Login to rate
Times played: 58227
Description
Doraemon Mischief: Nobita you want to play a joke and it should benefit Gigante Gigante now is sleeping in class. You have to paint a giant face without the teacher can see you, otherwise you will start the level again.

Date added: 2013-07-09
Instructions
Use your mouse to play.
Tags
None
Add a comment:
Log-in to add a comment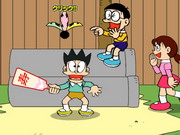 Doraemon Puzzle
Doraemon Puzzle: You have to create a puzzle of 12 pieces of Doraemon, Nobita and friends..
Doraemon Run Runs
Doraemon Run Runs: Nobita is in trouble with Gigante and Doraemon has to save Lobita, but Giant is too angry t…
Doraemon And His Friends …
Doraemon And His Friends Puzzle: Do this puzzle that also Doraemon out Nobita and other friends.
Doraemon Buscar Pareja
Play this fun puzzle game based on the TV series Doraemon. You have to find a partner to remove blocks before …
I Heart Doraemon
I Heart Doraemon: Have you heard about Doraemon? Doraemon will make your dreams come true with hic magic pocke…