Doraemon Memory Matching
Overall rating:
Your rating:
Login to rate
Times played: 10438
Description
Doraemon Memory Matching: Match the pictures of The doraemon in pair. Try to finish the game in as little clicks and fastest time as possible.

Date added: 2013-07-09
Instructions
This game is played with mouse only.
Tags
None
Add a comment:
Log-in to add a comment
Doraemon Bicycle Racing
Doraemon Bicycle Racing: Doraemon, Nobita, Gian and Shizuka want to use their free time to make bike racing. C…
Doraemon Tetris
Doraemon Tetris: Spend a fun time playing this fun game based Doraemon Tetris. You have to fit the parts toget…
Doraemon Halloween Atv
Doraemon Halloween Atv: Please help Doraemon drive atv collect the cake in the Halloween night.
Doraemon Super Ride
Doraemon Super Ride: Select your favorite bike to take ride with Doraemon. Balance your wheels and control you…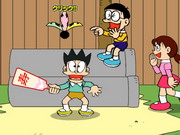 Doraemon and the bad dog …
Doraemon and the bad dog Game: A band of robot dogs have kidnapped our friend Doraemon. Interact with Novita i…