Doraemon In Scooter
Overall rating:
Your rating:
Login to rate
Times played: 36722
Description
Doraemon In Scooter: Help our friends Doraemon has control scooter through the streets of Japan avoiding all obstacles.

Date added: 2013-07-09
Instructions
Use your mouse to play.
Tags
None
Add a comment:
Log-in to add a comment
Launch Doraemon
Launch Doraemon: Using your cannon, lunch Doraemon for as far as possible to gain more points.
Doraemon Fashion
Doraemon Fashion: Dobby is very fond of the Japanese style the Doraemon fashion. She requests you to help her …
Doraemon Tank Attack
Doraemon Tank Attack: Our friend Doraemon has to defend his castle with a tank. Your mission is to kill all th…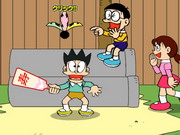 Hunt Penguin
Hunt Penguin: Hateful Penguins make waves again! They even dress up as Ultraman, Superman or Doraemon! Quickly…