Doraemon Hidden Objects
Overall rating:
Your rating:
Login to rate
Times played: 68922
Description
Doraemon Hidden Objects: Find out the objects displayed below, which are hidden in the image. Find them in the shortest time to earn points.

Date added: 2013-07-09
Instructions
This game is played with mouse only.
Tags
Add a comment:
Log-in to add a comment
Doraemon Fisherman
Doraemon Fisherman: Doraemon already tired of stressful sports and now enjoys the tranquility of fishing.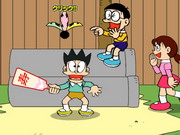 Doraemon Tetris
Doraemon Tetris: Spend a fun time playing this fun game based Doraemon Tetris. You have to fit the parts toget…
Doraemon Memory Matching
Doraemon Memory Matching: Match the pictures of The doraemon in pair. Try to finish the game in as little clic…
Doraemon Motorcycle
Doraemon Motorcycle: We are all hoping to play with our friend Doraemon mounted on a motorcycle. Now`s your ch…