Doraemon Flap Flap
Overall rating:
Your rating:
Login to rate
Times played: 4384
Description
Doraemon Flap Flap is a free game for girl to play online at doraemongames.me. You can play Doraemon Flap Flap in your browser and mobile for free.

Date added: 2014-12-07
Instructions
In this winter, Doraemon and Nobita decide to town beautiful cherry blossoms, Doraemon and Nobita let you discover this beautiful town by collecting items and unlock each door.

Tags
Add a comment:
Log-in to add a comment
Doraemon Bowling
Doraemon Bowling: This time play the gig with Doraemon, throws the ball as focused as possible to pull down al…
Doraemon Run Nobita Run
Doraemon Run Nobita Run: Help Doraemon avoid various obstacles and get away safely by hitting the right keys a…
Doraemon Puzzle 3
Doraemon Puzzle 3: Assemble a puzzle of 12 pieces of Doraemon. To play use the mouse.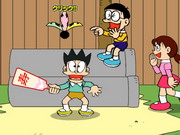 Doraemon Guidelines
Doraemon Guidelines: Entertaining game where our friend Doraemon projectile ago. Doraemon is to throw as far a…