Doraemon Escape
Overall rating:
Your rating:
Login to rate
Times played: 39028
Description
Doraemon Escape: Nobita have to run away from home with your help. You have to investigate your bedroom to collect all the necessary tools to escape from home. Be patient and look in every corner of the house

Date added: 2013-07-09
Instructions
Use your mouse to play.
Tags
None
Add a comment:
Log-in to add a comment
Doraemon Synchro
Doraemon Synchro: Doraemon want to help you guess which one has the Doraemon false that wants to compete in th…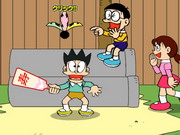 Gian Recital
Gian Recital: Gian wants to bring the house down with his ear bursting music in this doraemon game. Your job i…