Doraemon Escape
Overall rating:
Your rating:
Login to rate
Times played: 39021
Description
Doraemon Escape: Nobita have to run away from home with your help. You have to investigate your bedroom to collect all the necessary tools to escape from home. Be patient and look in every corner of the house

Date added: 2013-07-09
Instructions
Use your mouse to play.
Tags
None
Add a comment:
Log-in to add a comment
I Heart Doraemon
I Heart Doraemon: Have you heard about Doraemon? Doraemon will make your dreams come true with hic magic pocke…
Doraemon Gift Box
Doraemon Gift Box: Doraemons are jumping out of the gift box with different dress-up and expressions. Pick out…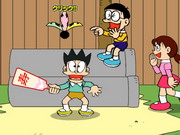 Baseball Typing
Baseball Typing: Play Doraemon baseball, and make your team winning in the shortest time possible.
Doraemon And Nobita In Sp…
Doraemon And Nobita In Space: Complete this magnificent puzzle where Doraemon out Novita in space.