Doraemon Couple
Overall rating:
Your rating:
Login to rate
Times played: 40343
Description
Doraemon Couple: Help our friend Lobita to match the letters on the screen. But it is not easy because every time I get the red bar at the end of a row of letter increases. You need to get together all the partners before you get up

Date added: 2013-07-09
Instructions
Use your mouse to play.
Tags
None
Add a comment:
Log-in to add a comment
Doraemon Synchro
Doraemon Synchro: Doraemon want to help you guess which one has the Doraemon false that wants to compete in th…
I Heart Doraemon
I Heart Doraemon: Have you heard about Doraemon? Doraemon will make your dreams come true with hic magic pocke…
Doraemon Escape
Doraemon Escape: Nobita have to run away from home with your help. You have to investigate your bedroom to col…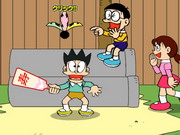 Gian Recital
Gian Recital: Gian wants to bring the house down with his ear bursting music in this doraemon game. Your job i…