Doraemon copter
Overall rating:
Your rating:
Login to rate
Times played: 13571
Description
Doraemon is flying high to reach the final destination. His greatest fear Mice is all over the place to block his way. Avoid Mice and collect food to gain your health to reach the maximum distance.

Date added: 2014-03-28
Instructions
Use Arrow keys to Play.
Tags
Submitted by:
Add a comment:
Log-in to add a comment
The Doraemon Adventures
The Doraemon Adventures: The Doraemon will go on an adventure to count the numbers of wild animals. Game in wh…
Doraemon Buscar Pareja
Play this fun puzzle game based on the TV series Doraemon. You have to find a partner to remove blocks before …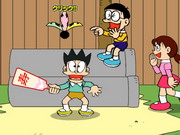 Doraemon Puzzle 2
Doraemon Puzzle 2: Try a puzzle in the adventures of Doraemon.
Doraemon Box Surprise
Doraemon Box Surprise: In this fun game you have to discover Doraemon which is different from the others Dorae…
Doraemon and the King Kon…
Doraemon and the King Kong: Nobita has traveled back in time and gorillas have kidnapped and now as his friend…