Doraemon Colors
Overall rating:
Your rating:
Login to rate
Times played: 43969
Description
Doraemon Colors: It`s a fun coloring game Doraemon with his friends. Doraemon can color with dozens of colors and change colors as often as you like. Do not forget to include your name once you have finished coloring.

Date added: 2013-07-09
Instructions
Use your mouse to play this game.
Tags
None
Add a comment:
Log-in to add a comment
Doraemon Motorcycle
Doraemon Motorcycle: We are all hoping to play with our friend Doraemon mounted on a motorcycle. Now`s your ch…
Doraemon Smart Puzzle
Have a good time playing this fun mini game where you have to complete Doraemon all puzzles in each level
Doraemon Puzzle 3
Doraemon Puzzle 3: Assemble a puzzle of 12 pieces of Doraemon. To play use the mouse.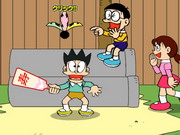 Doraemon Hidden Objects
Doraemon Hidden Objects: Find out the objects displayed below, which are hidden in the image. Find them in the…
Doraemon Mischief
Doraemon Mischief: Nobita you want to play a joke and it should benefit Gigante Gigante now is sleeping in cla…