Doraemon Box Surprise
Overall rating:
Your rating:
Login to rate
Times played: 12285
Description
Doraemon Box Surprise: In this fun game you have to discover Doraemon which is different from the others Doraemon. There is a box of surprises and when you expect it meno Doraemon and many will have to select the different Doraemon as soon as possible.

Date added: 2013-07-09
Instructions
Use your mouse to play.
Tags
None
Add a comment:
Log-in to add a comment
Doraemon Fishing
Doraemon Fishing: Doraemon already tired of stressful sports and now enjoys the tranquility of fishing.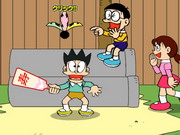 Doraemon Super Ride
Doraemon Super Ride: Select your favorite bike to take ride with Doraemon. Balance your wheels and control you…
Doraemon vs Giant
Doraemon vs Giant: Again Gigante runs behind Doraemon Doraemon and now have to run as fast as you can dodging …