Doraemon and the bad dog Game
Overall rating:
Your rating:
Login to rate
Times played: 52957
Description
Doraemon and the bad dog Game: A band of robot dogs have kidnapped our friend Doraemon. Interact with Novita in this strange planet where you can fly and shoot with a powerful shot. Try to gather all you can and release dorayakis Doraemon

Date added: 2013-07-09
Instructions
Use arrow keys to move. Up arrow key to fly.
Tags
Add a comment:
Log-in to add a comment
Doraemon And The Time Mac…
Doraemon And The Time Machine: Doraemon has to travel through time and it has to drive his time machine at ful…
Doraemon Guidelines
Doraemon Guidelines: Entertaining game where our friend Doraemon projectile ago. Doraemon is to throw as far a…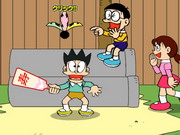 Nobita Papers To The Tras…
Nobita`s mom is very angry with him because he has a room full of papers. For Nobita get out there and play wi…
Launch Doraemon
Launch Doraemon: Using your cannon, lunch Doraemon for as far as possible to gain more points.
Doraemon And His Friends …
Doraemon And His Friends Puzzle: Do this puzzle that also Doraemon out Nobita and other friends.